Spotify Playlist  <<<  Listen here while you bake!
iTunes Playlist  <<<

So I just made my own pumpkin banana bread, and it is SLAMMIN'! I've made Better Homes and Gardens' banana bread for a long time (with a few of my own modifications, and it works well with Gluten Free flour, too. My kids love it!) Today I only had 2 ripe bananas (it calls for 3), but I had pumpkin pack in the fridge, so I pulled it out and substituted, and viola! Delicious, delicious, delicious! I'm a sucker for a moist dessert, and also love everything fall and pumpkin, so this hit all my "yes" spots. I almost always add mini chocolate chips to my banana bread; it gives it that extra little dessert feeling. The recipe calls for nuts, so you can definitely put those in, too, or instead, if you're feeling a little nutty.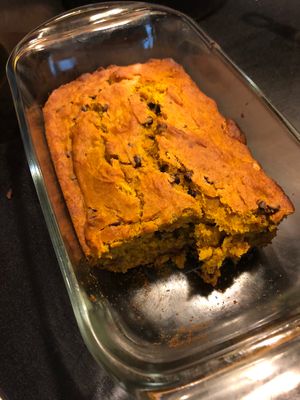 Without further ado….. 
 
PUMPKIN BANANA BREAD
 
1 1/2 cups all purpose flour 
   (I use America's Test Kitchen's GF flour blend) 
1 1/2 tsp baking powder 
1/2 tsp baking soda 
3/4 tsp ground cinnamon 
1/8 tsp salt 
1 egg 
2 ripe, mashed bananas 
1/2 cup pumpkin puree 
1/2 cup sugar 
1/4 cup cooking oil 
scant 1/2 cup mini chocolate chips or nuts 
1.  Grease the bottom and sides of a loaf pan; set aside. In a medium bowl combine the dry ingredients (sans sugar), stirring well. 
2.  In a mixing bowl, beat the egg, bananas, pumpkin, sugar, and cooking oil together. Slowly add the dry mixture, stirring until just moistened. 
3.  Bake for 45-50 minutes at 350º or until toothpick inserted in center comes out clean. Cool for 10 minutes (if you can hold yourself back!), serve and enjoy!
Spotify Playlist or iTunes Playlist for Baking and Chilling Out