It's been a year of tremendous changes: so big, that it can be hard to decide where to draw the professional/personal line in sharing with the general public. Let's just say they are both personal and health-related. Message me, or better yet, come chat with me at a gig, and I'm happy to have a heart-to-heart about me. :) 
I'm swinging back to my singer-songwriter self. It never went away; I've been writing this whole time, just not as prolifically with the busyness of life and raising three young children. When I moved to jazz, I imagined that I would start writing jazz songs. I'm happy to say that it has deepened my knowledge of harmony, sense of melody, and the flow of a song, but when I create, it still comes out in lyrics and melodies that are closer to singer-songwriter style than jazz. But, many of the songs I've written are in bossa nova style or follow a Blues progression, and the harmonies and progressions are more jazz than my previous Sara Bareilles-esque-style. I think I would call it singer-songwriter with jazz sensibilities. Maybe some brilliant critic will come up with what my style is. Until then, you'll just have to listen and find out for yourself!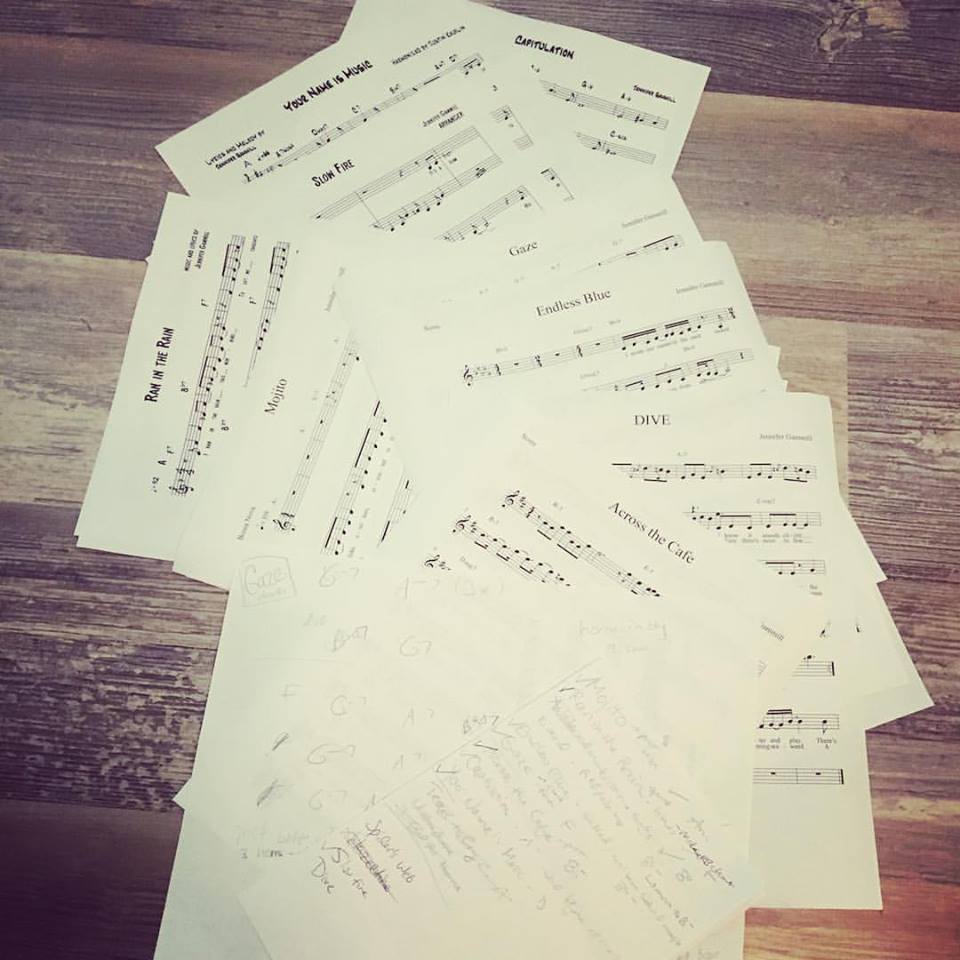 Some of them I've been performing for a few years, like "Mojito," "Ran in the Rain," "Capitulation" (the only instrumental), and "Your Name is Music," which I wrote at the very beginning of my jazz education, and which Justin Kauflin harmonized for me, since my knowledge wasn't up to speed with my ear back then. I have finally charted almost all of them into Finale with some free time I've had this summer, so that my studio musicians can follow the progressions easily. Now I'm going to "scrub" them, both with my teacher (Jae Sinnett), and a fellow songwriter that I met recently and also has jazz roots. 
Yesterday I met with Jae and we went through the first of my songs together; he helped point out where I had some awkward chord resolutions and gave me some ideas for how to make that flow better. I'm adding 8 bars that I think really embellish the song! And he helped come up with a cool groove for the end of it. I'm blessed to learn under such a master. Sometimes he'll play chord voicings (and he's primarily a drummer!) that I can't even decipher while looking at his fingers on the piano. Cool cat he is!
Most likely I'll keep going through this process the rest of the summer, and I'll hopefully record in the fall -- look for a kickstarter campaign in the coming months. :) I'm going to need some funding for the project. I'm super excited about the product, as my quality as a musician, songwriter, flautist, and vocalist keeps improving. 
A performance highlight was being the guest performer for the Jae Sinnett Trio in May! Here is a clip. Visit my YouTube channel for more. 
I haven't been driving across the water (to Hampton and Williamsburg) as much for gigs this year, but Young Audiences has kept me teaching and gigging on that side of the water. 
This summer you can find me at Gershwin's, Town Center of Virginia Beach July 20 and September 1, and at Beach Street with the Doorway Singers. See my home page for performance details. 
Thank you for your support! Much love to all......