This past year I've been reconnecting with the piano (which I credit to having gone through The Artist's Way). It was my first instrument, which I started when I was 6; I took private lessons for 10 years, played in countless recitals and in church, accompanied a few choral groups in high school, and as a teenager learned basic theory and playing from chord charts with the church band. 
I never stopped playing, but when I turned my focus to jazz a few years ago, I decided to hone in on flute and voice, since flute seemed to be a rarer instrument in jazz than piano (plus, it looked incredibly difficult to play jazz piano. Ironically, it's been hard to find jazz piano players in the area who are not already booked for the quartet gigs I do get). So I dug in and studied and strove and tried my hardest with having three young children at home. When I started booking duo gigs I would hire a piano player, because I knew I was not competent in jazz piano, and also so I could play my flute. :)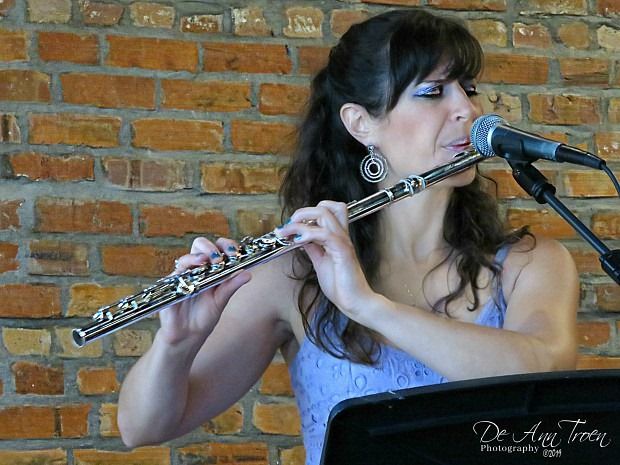 Fast forward to last year: my duo partner, Joe, said I didn't give myself enough credit for my piano playing. I was comparing myself to the great jazz pianists (and Justin Kauflin was my closest local exposure to it), so I felt completely intermediate and like not a great player. But we so often focus on our weaknesses and not our strengths. Joe encouraged me, and I began doing one set piano and vocals when I was on the late shift at Gershwin's. I've still felt awkward so many times, and even as a singer-songwriter and worship leader in my earlier years, both vocal and piano suffered when I did both at the same time, so I got frustrated and gave it doing both simultaneously, for the most part. 
I started doing more and more gigs piano and voice. Then I did my solo shows at Live on Atlantic with keyboard, vocals, and flute utilizing my loop pedal! That's fun but challenging. Then, a soul/R&B vocalist got my name and asked if I would accompany her. I explained to her that I wasn't primarily a piano accompanist and that she might want to find someone else more qualified, but she told me that her other people had flaked out and weren't reliable, so she wanted to give it a go with me. We did and I'm still playing with her! It's been challenging, to keep the time steady, and then to venture in to the R&B land where I don't have as much experience or knowledge. I know I'm not tearing it up like some of the players out there, but I'm doing well and always striving to improve. 
I've been regularly subbing at a church playing just piano, did two funerals this past weekend solo piano. 
I've also been slowly working through Mark Levine's Jazz Piano Book. Strangely, I've been gracious and patient with myself in working through it. I only take a little bit at a time; I practice it and make sure I've got it before moving on. I wasn't so gracious with learning jazz flute - maybe because I was booking gigs and feeling the pressure to be a good improviser right away.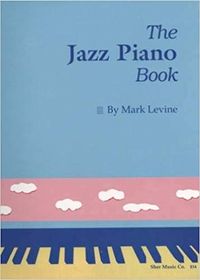 A few weeks back I started on the chapter about left-hand voicing and comping, and I got so excited. I've always been fascinated by comping and thought it so mysterious and unattainable, but now, I had the visual tools right in front of me! It felt and can still feel so weird to stretch my left hand into chords when I've been so used to tonic and fifth in my left for pop/worship/original music, and even jazz as I've accompanied myself and had to play the bass. But I started slowly going through the ii-V-I forms and assimilating them little by little. 
Then a place where I regularly play solo asked for a jazz trio for a special event. Since as a flautist and vocalist I usually go for a quartet so I have piano or guitar, bass, and drums behind me, this time I thought, "You know, why don't I go for the piano trio and I'll be the pianist!" So I booked it and began going through each tune (carefully choosing ones that wouldn't stress me too much, but I still learned a whole lot in preparing them) and its form for comping and such, and training myself NOT to play the bass notes since I'd have a bass plater. 
Folks, I played my first jazz piano gig as the bandleader on Monday! It was so joyful. It felt like real jazz, and we get that so little these days. The piano I played was a beautiful instrument, making it easy to milk the keys. Being part of the rhythm section was grounding and fueled a deep pool in me. I may even be a better improviser on piano than flute, because I can see it in front of me. I'm a very visual learner, and that's been one of the hardest things for me on jazz flute, trying to visualize all the notes and scales and licks when I don't see it in front of me. I'm naturally much more comfortable reading music. 
My favorite jazz sound has been and probably always will be jazz piano trio - piano, upright, and drums. Skip the strings, the saxophones, the horns, just give me piano. Maybe it's because it's where I started, and it still thrills me to be able to press the keys and make something inanimate sing. 
So, hello, piano, my old friend. Let's play.